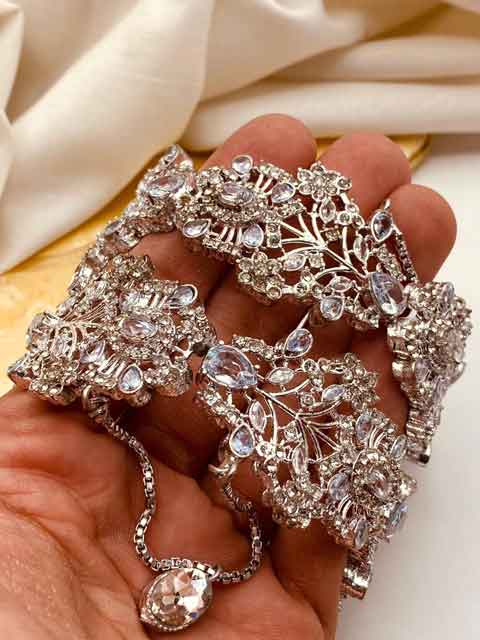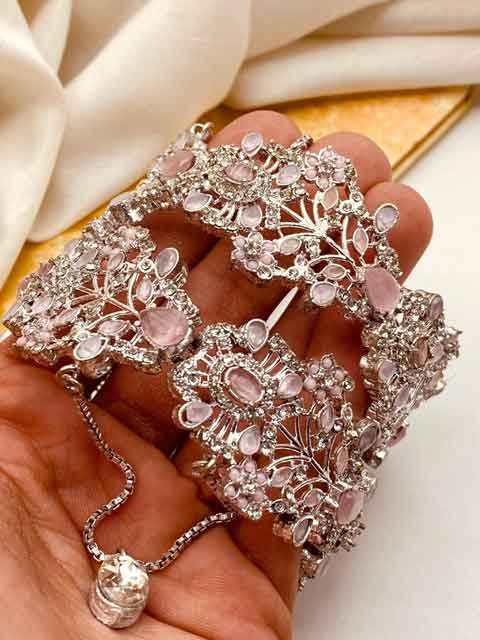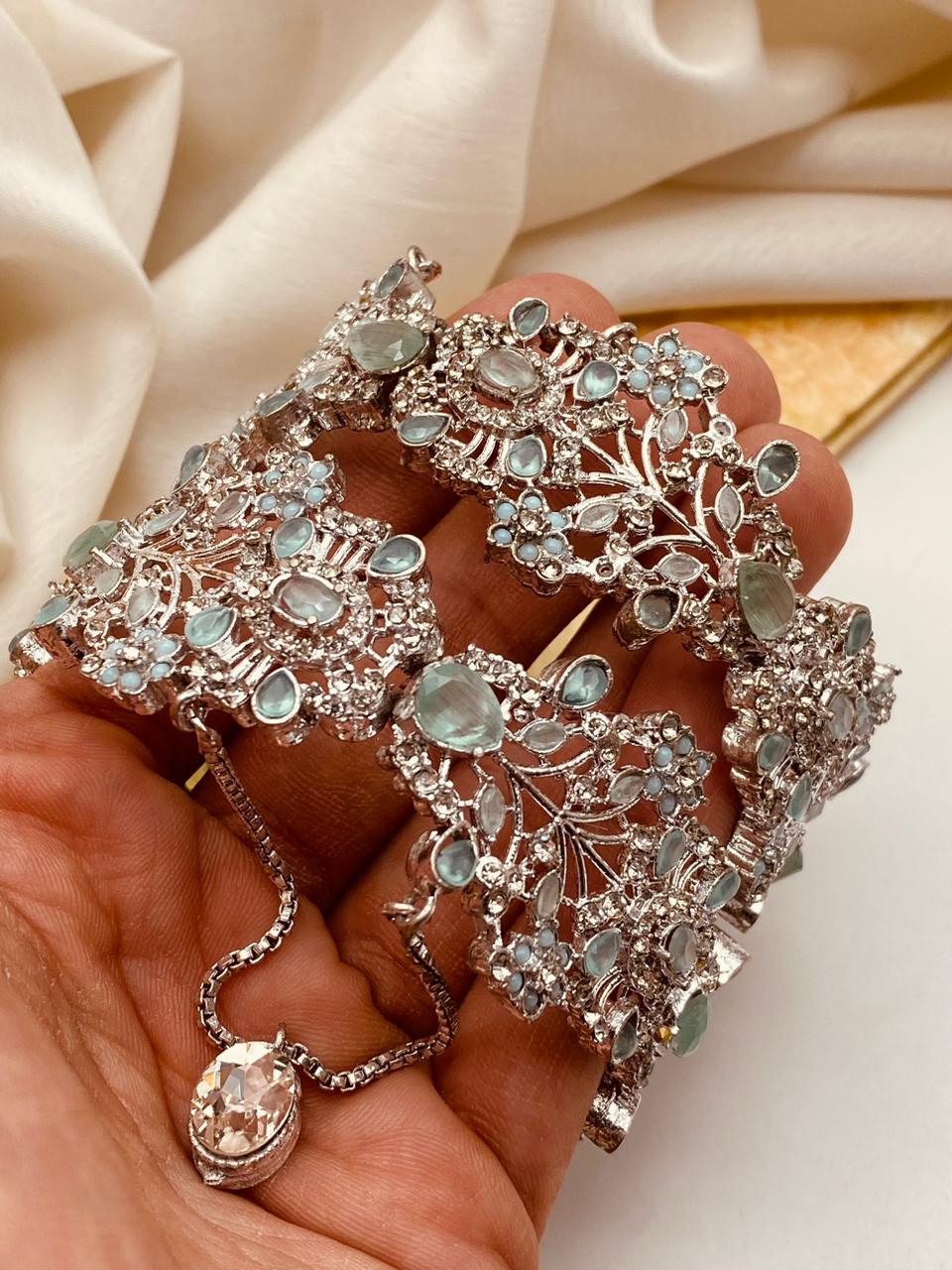 Stylish Gold plated Bangles Openable- NJ-1406
Choose Your Color:
Silver White

PRODUCT INFORMATION
Nayab Jewellery, Its leading artificial Jewellery brand in Pakistan, is trying to provide its customers with the finest and highest-quality Jewelry at affordable prices. Our specialty of expertise is creating the latest designs of artificial jewelry
PRODUCT PICTURE: 
The image at the top is a genuine original shot of the product without, any filters or photo editing. However, exposure to light may lead to a color variation of up to 5%.
JEWELLERY CARE  : 
"Here are some important guidelines to care for your jewelry:
Avoid spraying perfume directly onto the jewelry item. Tip: It's best to apply your perfume before putting on your jewelry.
Refrain from wearing jewelry while showering, washing your hands, or doing laundry.
Avoid wearing jewelry right after applying lotion or cream, as the chemicals may harm the product.
Store your jewelry in its box or pouch to protect it from wear and tear.
Do not wear jewelry while swimming, as exposure to seawater and chlorine can damage it.
Remember to remove your jewelry before going to bed to prevent any damage to the product."
SHIPPING: 
Free Shipping all over Pakistan on the above order of Rs 3000/ in 2 to 4 working days
Nayab Jewellery
Nayab Jewelry, the leading artificial jewelry brand in Pakistan, we understands that people are constantly searching for the finest artificial jewelry online. If you're someone who's fascinated by the latest designs in artificial jewelry from Pakistan, be sure to explore our collection. Our inventory boasts a wide range of the latest items in various categories, including Mala Set, Locket Set, Bridal sets, Bangles, Earrings, Tops, Stud,  Jhumka  Rings, Necklace, Chokar, Bracelets, Chains, Bindiya, jhoomar, Calligraphy, and Pendants.
What are the delivery charges?
Its PKR 250 /- Delivery charges For Nationwide.....
For international charges you can contact us it varies as per country.
What is your delivery time?
Delivery time is between 3 to 5 working days for domestic orders (from within Pakistan).
It is 10-15 working days for International orders.
What are the free shipping?
Free Nationwide delivery for orders over 2999 PKR.For international orders, customer bears the shipping and handling costs. The shipping charges, for international customers, are calculated at checkout according to the customer's location. We do not offer free shipping for international orders.
For Order Cancellation
Customers can Cancel/Changes there orders after 2 hours of order submission after that no one will be entertain. They have to received their orders at any cost.
Important Notes
Riders follow routes and note timings so please cooperate. Nayab Jewellery has the authority to cancel orders for reasons such as…. the item is out of stock, Pricing Errors, etc
1. Every Sale item or Stock clearance Sale item would not be change nor refund.

2. If there any damage or any fault or difference you would find Nayab Jewellery will be responsible to change the Product, the customer would have to resend the parcel through Pakistan Post courier service at Nayab Jewellery Address.

3. The customers who wants to exchange the Items with another like (Bangles size, Bangles design) or whatever they have to pay 500/- delivery charges.

4. After Receiving Previous Parcel Exchange Period will be 2 days for products

5. Cash Refunds are not offered. In case of size issues or damaged product, we offer exchange Items

6. You can contact our customer service department by Contacting us at +92 0331 4862350, or you can email us at... jewnayab@gmail.com

7. Item can only be exchanged if it's not the same as in picture

8. If Customer want to exchange any Article after receiving her/his order she/he must pay both side Delivery Charges as there was no issue from our end.


9. Exchange allowed only if the article is not used, all tags are intact, packing is in its original condition, and then you are good to go ahead with the exchange.

10. Important Note Dear Customers!
PLEASE MAKE A VIDEO WHILE OPENING THE PARCEL, IF THERE IS ANY DAMAGE AND MISSING ITEM SEND US VIDEO, WITHOUT VIDEO WE WILL NOT ACCEPT ANY CLAIM
Its a geat experince to buy from nayab jwelery.. quality is awsome.. will shop again inshaAllah..